In chess, we use the term gambit when one side sacrifices material (a pawn, two, or even a piece) in exchange for some kind of positional advantage, such as development advantage, superior pawn center, active pieces, etc. Now that you know the definition, it's time to know the five best gambits!
Queen's Gambit…?
The Queen's Gambit appears on the board after moves 1.d4 d5 2.c4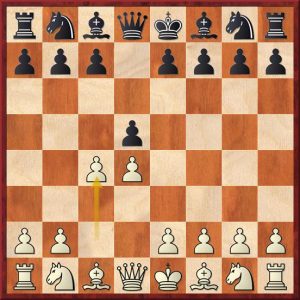 White's idea is to sacrifice a flank pawn (that is, further from the center) for a central pawn, and thus have two central pawns against one of black. But the problem is that White rarely sacrifices this pawn! For example, if Black plays 2…dxc4 (what we know as the Queen's Gambit Accepted ), White has the option of playing 3.Qa4+, recovering the pawn immediately. So, I'm not going to consider the Queen's Gambit a "real" gambit, so let's start the article with the real gambits.
Gambits with white
1. Evans Gambit
The Evans Gambit appears on the board after moves 1.e4 e5 2.Nf3 Nc6 3.Bc4 Bc5 4.b4!?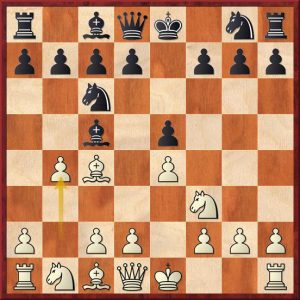 White's idea is to divert the Bishop's attention from c5 from the square of d4, for example, after 4…Bxb4 5.c3 (Winning a tempo) 5…Ba5 6.d4 and White managed to create a strong pawn center, which is the positional advantage that White White seeks in this gambit.
Currently, the Evans Gambit is not often seen at high levels, but it can be used as a surprise weapon. Among the reference players, there are mainly Adolf Anderssen himself and more recently GM Sergei Zhigalko.
2. Smith-Morra Gambit
The Smith-Morra Gambit appears after moves 1.e4 c5 2.d4 cxd4 3.c3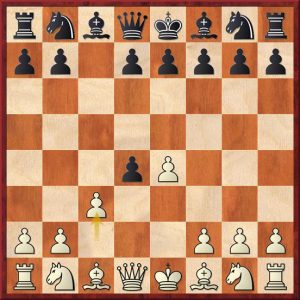 White's idea is to sacrifice a pawn for development, for example after 3…dxc3 4.Nxc3: Notice how white already has a piece developed and the other pieces leave with speed, while black has no open lines for development and they need to be very careful not to get knocked out quickly. Currently, the Smith-Morra Gambit is not often seen at a high level, but it is seen a lot in club player games. Among the reference, players are GM Badur Jobava and GM Evgeny Postny.
Gambits against 1.e4
3. Marshall Gambit
The Marshall Gambit (or Marshall attack) appears after 1.e4 e5 2.Nf3 Nc6 3.Bb5 a6 4.Ba4 Nf6 5.O-O Be7 6.Re1 b5 7.Bb3 O-O 8.c3 d5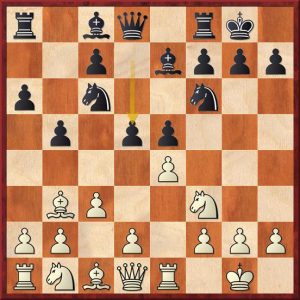 It is named after world championship contender Frank James Marshall (1877-1944), and legend has it that Marshall had been preparing this Gambit for many years until he had the opportunity to play José Raul Capablanca in 1918, but unfortunately, he ended up losing the game. Since then, the Marshall Gambit has gained many fans. Black's idea is to sacrifice a pawn for activity with the pieces and chances of an attack on the kingside, and thus avoid the typical Spanish torture, which became known as the positions after 8…d6. The Marshall Gambit is a frequent guest in high-level games, although White still has several alternatives to avoid it. Among the reference players, GM Levon Aronian is currently the main defender of the Marshall Gambit.
Gambits against 1.d4
4. Benko Gambit
The Benko Gambit (also known as the Volga Gambit) appears after 1.d4 Nf6 2.c4 c5 3.d5 b5!?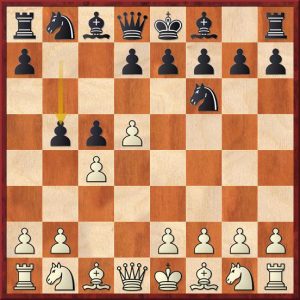 Benko published a book about this Gambit in 1974, although the idea of sacrificing the b-pawn had already been explored. Black's idea after 4.cxb5 a6 is to sacrifice a pawn on the queenside to open files on that side, and thus apply positional pressure with the pieces (normally Black develops with …g6-…Bg7-…Nbd7-…Qc7-…Rfb8). It's not a very popular guest among the elite, but below GM level it's a guest that appears quite often. Among model players, the main name currently is GM Danilo Milanovic.
5. Blumenfeld Gambit
The Blumenfeld Gambit happens after 1.d4 Nf6 2.c4 e6 3.Nf3 c5 4.d5 b5!? (Of course, the order of moves can vary, but the starting position of the Gambit is this):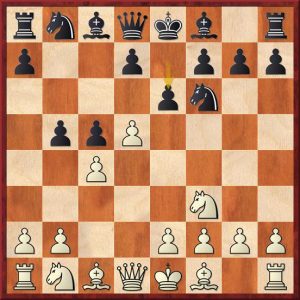 It can be seen as a close relative of the Benko Gambit. Except that with the pawn going to …e6, Black will try to play …d5-…Bd6 and put pressure on the center and kingside. Like his brother, he is not a frequent guest of the elite. The player who has good matches in the Blumenfeld Gambit is GM Boris Savchenko.

Conclusion
I believe these five gambits are the best, both for club and professional players. And now that you know which gambits to play, how about learning how to organize your openings? Check it out in this article! I hope you enjoyed it and see you in the next article!