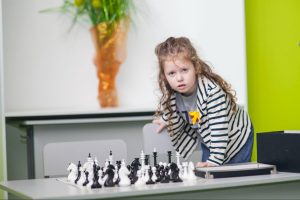 Chess for kids is a powerful push for intellectual development. It helps them to think independently, and develops the ability to concentrate and think critically, improving memory at the same time. Even if a child loses the game, he subconsciously analyzes what he did wrong, developing the ability to learn from mistakes.
As a chess coach with students of all ages all over the world, I divide all children into 3 groups. For each of them, the benefit of chess varies:
Pre-school age
Learning to think and reason logically
Becoming more thoughtful and attentive
Developing the planning skills
School age
Developing a child's intelligence
Improving memory and school performance
Developing the ability to imagine and predict the consequences of their actions
High school age
Developing emotional resilience and self-confidence
A competitive desire to take on even the most difficult tasks appears
Learning to be more goal-oriented
According to USSR scientists' experiments, children of approximately the same age, intellectual level, and physical development, who had systematic chess lessons, coped better with tests.
How to start playing chess with a little child?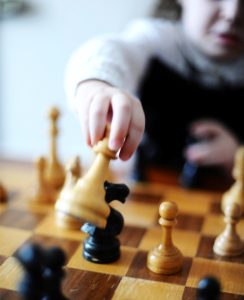 It is recommended to start playing chess at the age of 5. How to inculcate an interest in chess in a child? It would be best if parents are also interested in chess. If there is only one parent who plays in the family, you can simply invite the child to play together. The game should be short so the kid doesn't get bored: 10 -15 minutes is enough. Each time tells only about one chess piece, then ask the kid to "cut" other people's pieces and pawns. The main thing here is to finish on time. If everything is done correctly, you will manage to raise interest in a child.
Does it make sense to lose to your child?
Some coaches categorically think it does not. Of course, if you lose to a child all the time, he thinks that playing chess is easy and that he is already strong enough. On the contrary, when a child loses, he might lose interest in chess at all. 
I believe that it is not necessary to completely lose to a child for the sake of momentary joy, but you can "give chances". Say, you adjust the situation in a way that if he guesses and makes a certain move, he will get a winning position, or will not be far from the checkmate. If the child did not guess, and, of course, lost, just show him the opportunity that he missed. This approach will encourage your child to think and try more. 
What should I do if a child already shows an interest in chess?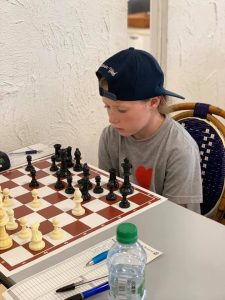 The most important thing for success in chess is interest. All the rest is secondary. If your child finds chess appealing, it's alreadya success! Then it's better to give this job to a coach. Make sure to choose the professional one as it is crucial to inculcate the "correct style" at the beginning of his way.
What is the "correct style"?
A child needs to understand moves as a part of a strategy. During a chess game pieces should be arranged in a way that they interact with each other. Of course, a kid will not be able to calculate all the combinations and understand how to arrange the pieces, but he will understand the basic principles!
Chess can become something more than just a game for a child. But no matter if the child is interested in it on a professional level or not, he will benefit from playing chess anyway. So, if you notice your child showing some interest in chess, try to support him!
Chess coach & Co-founder of Chess School "Chesslance.com"
FIDE Master Viktor Neustroev